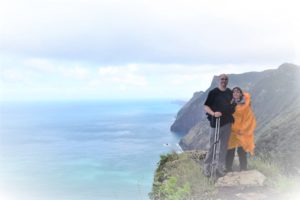 Lovers of beautiful landscapes, walks and different cultures, we (Marc and Soizic) wanted to merge all this by creating Babeltrek.
After traveling several times through French travel agencies, we made this observation: often, it was a local agency that organized everything. The latter speaking French or English, in short, languages ​​that we also practice.
So we create this simple and effective solution. Then we mobilized our friends to recommend guides and agencies. Finally, we have tried (and continue to develop) partnerships with them.
I hope you will find all our values ​​in our platform:
Trust
Our guides and agencies have all been recommended.
We plan to do a trek with each of them (Obviously, it'll be a little long).
Our payment system is completely secure (Stripe and Paypal)
Share
Our guides and local agencies freely define the prices that seem right to them.
Our commission is limited to a minimum in order to be compensated for what we bring (visibility and trust mainly)
Discover
We are constantly working to expand our geographic coverage for even more land to explore.
Our platform mixes languages ​​because to discover a culture is even richer when we do not all have the same perception.